What The Heck Is Going On In Region 8!?
This post is also available in:
English
Reading Time:
2
minutes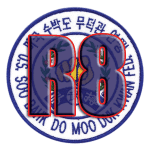 We are not exactly sure whats going on in Region 8, but something is definitely up!
Although it's still early in the 2014 National Festival destination bidding process, it's already beginning to look like Region 8 may steal the event away from everybody else.
Take a look at the real-time results of the bidding process that will determine the 2014 National Festival destination.
Now take a look at this map illustrating nationwide Federation Dan member population density and tell me why you think that more members are bidding to host the National Festival at the highlighted destination shown on the map than are bidding for it to be held in any other location in the U.S., even areas where far more Dan members live?
Whatever is going on in Region 8, it seems to fly in the face of logical assumptions.
For example:
Regardless of what else may be going on in Region 8, the tangible results to date seem to suggest that embodiment of Kwan Jang Nim's Vision Tour mantra is at work here.
"Individual participation is the Key Energy necessary to strengthen our foundation."
– H.C. Hwang, Kwan Jang Nim
Why do you think the circled destination on the map is currently leading the pack to host the 2014 National Festival instead of locations with much higher Dan member populations?